Ford F-250 2011 - 2023 | HD Kit
Ford F-250 2011 - 2023 | HD Kit
RoadActive Suspension
Kit includes an easy to install RAS Heavy Duty Spring for each rear leaf spring. RoadActive Suspension kits are designed to strengthen the rear leaf springs for towing or hauling without negatively affecting unloaded ride quality. This kit will reduce rear bounce and work like a helper spring, sway bar and traction bar, at 1/3 the price. Estimated install time is 1-2.5 hours. *If your truck does have a factory top overload, it must be removed in order to install RAS. • This Kit Qualifies For Complimentary 1-2 Day Ground Shipping | VIEW GROUND MAP
Ford F-250 2011 - 2023 | HD Kit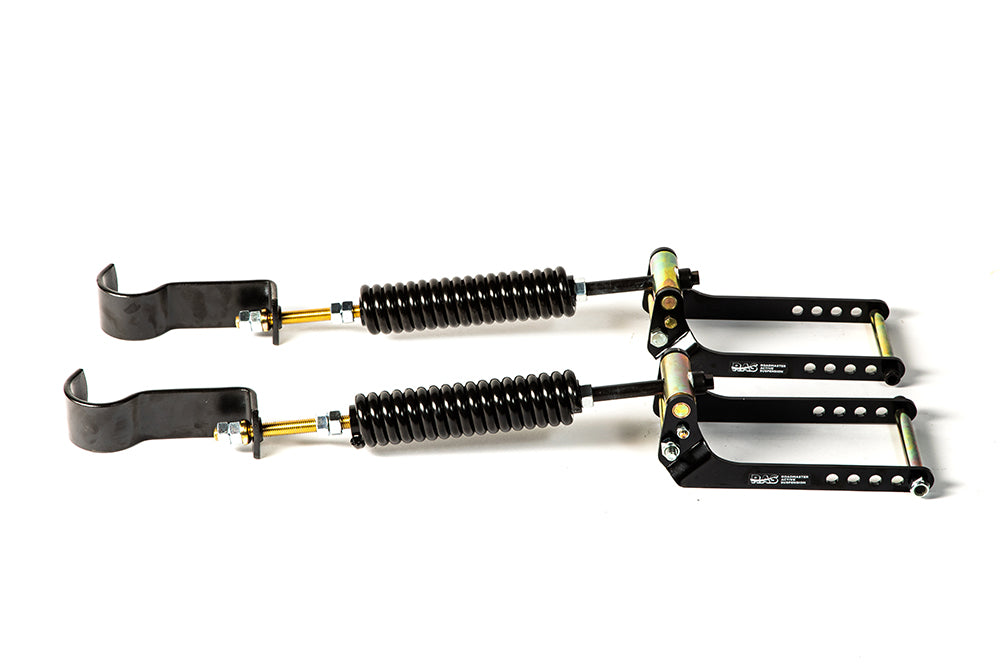 Each kit is tailored to your specific vehicle
RoadActive Suspension is uniquely assembled for your model and typically ships within 1-2 business days! RoadActive Suspension is the only suspension upgrade on the market that adds strength to your rear suspension, provides same as or better than stock unloaded ride quality and doesn't require readjustments or maintenance.
Each RAS kit comes fully assembled out of the box and ready for installation. Follow your application guide that is in the box and you will be ready to test your RoadActive Suspension after an installation as simple as 45 minutes! If you are not satisfied with your RoadActive suspension we offer a money back guarantee.
Benefits
- Reduce Rear Squat & Bounce
- Improve Stability
- Improve Roadhandling & Stability
- Make RVing Safer
- Reduce Axle Wrap
- No Readjustments or Maintenance
Warranty Information
RoadActive Suspension kits are warranted for 5 (five) years from date of purchase, against defective components and materials. However, kits cannot be warranted if any changes or modifications have been made to any rear leaf spring suspension components on the vehicle you intend installing the kit on.
If you would like to complete our online Warranty Registration, please click here.
Return Policy
RoadActive Suspension provides a 30 day money back guarantee, from date of purchase. However should the kit be returned, it must be re packed in the original packaging with all components included. On orders with free shipping (where shipping was paid for by RoadActive Suspension), refunds will reflect the invoiced amount, minus that shipping cost billed to us by our shipping provider. In addition, the customer will be responsible for the return freight charges.


RoadActive Suspension kits are warrantied for 5 (five) years from date of purchase, against defective components and materials. This is our standard RoadWarranty.
However you have the option to purchase our RoadWarranty+ which offers a number of additional benefits for a small fee.
Please review our Warranty Comparison Chart for details.
To upgrade to RoadWarranty+, simply add to cart during your kit checkout process OR purchase RoadWarranty+ 60 days within purchasing your RAS kit.
The active suspension I installed on my F150 is among my top two upgrades that I have done to the truck, and there have been many. The difference it made in the handling and appearance of the truck (eliminated the terrible squat) while towing my wife's 6,000lb horse trailer is amazing. Can't imagine using my ½ ton truck to tow without it!
-Travis M. on August 28, 2020
Just installed mine a few weeks ago and MAN it makes a world of difference! For reference I have a 2015 F-150 towing 34' Travel Trailer.
Matthew H. on November 12, 2020
I've had it on my 2013 GMC 2500 for 3 years, works great when towing heavy trailers.
-Ryan Q. on November 6, 2020
When we bought our horse trailer I immediately knew I needed something to help with the suspension on my truck. I did my research and came across the Roadmaster Active Suspension and decided to try it out.. to say I'm impressed is an understatement.. rides great loaded or empty, stops my truck from bottoming out when loaded heavy and just makes towing a much safer and more all around enjoyable experience.
-Justin Meyerhoff on March 9, 2020
I installed a set 3 weeks ago. Towed my 5400LB camper and could tell a big difference in handling.
-Raymond M. on November 3, 2020
I have had 2 F150's, I put this on both of them. Really makes a difference.
-Edward K. on October 28, 2020
I'm so impressed, well engineered, model specific, fits first time! I installed it on a 2001 Ram 2Wd, to pull my travel trailer. It performed very well and greatly reduced tail wagging when being passed on the interstate! The 3100 lb trailer required no sway bars using the Roadmaster Active Suspension. I thought it was pricey at first, then installation was a breeze, after putting it to the test pulling my camper! I would be happy to recommend it to anyone! It actually works!!
-Rick Walls on March 5, 2020
Fantastic product!!!! My 1996 Ram 2500 drives like its brand new!!!!! What a difference!!
-Patrick B on October 3, 2020
Just the road handling after the install was amazing basically feels like it sticks to the road like a sedan instead of a 4wd truck. I originally was getting them for towing but the road manners made them worth the money.
-James Courtney on December 28, 2019
Bought these and put them on my 2014 GMC 1/2 ton crew cab to haul my travel trailer, changed my ride immediately, removed the bounce on bridges and the sway motion. Would recommend to anyone doubting.
-Andrew S. on November 7, 2019